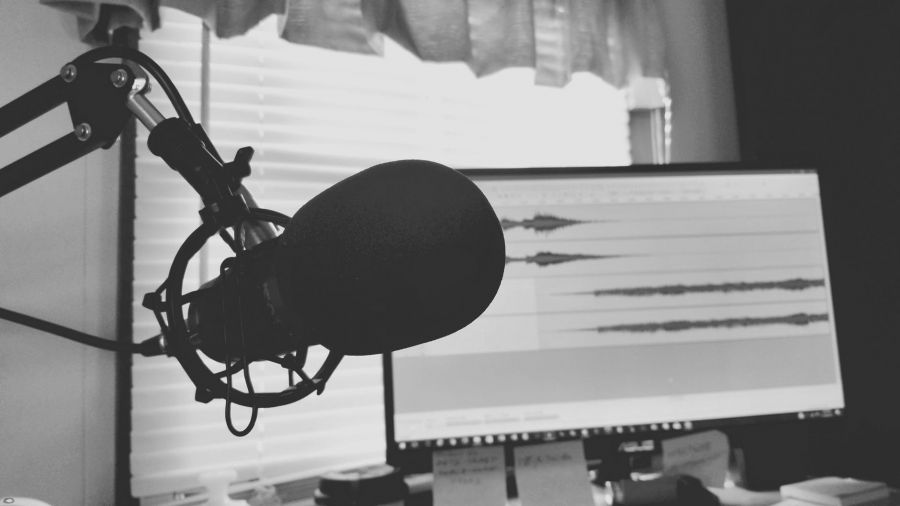 LHC: Hey there, welcome to "Let's make a health connection." In this podcast, we introduce, interview, and showcase the many healthcare providers and resources that we feature on our website, localhealthconnect.com. I'm Jennifer Barber, and I'm a licensed clinical social worker in Washington and Oregon, and I'm happy to be part of the local health connect provider community. Today we're talking to Tina Glausi. She is a 200-hour certified yoga instructor practicing in the Eugene area. She holds instructor positions at two local gyms and started her own yoga studio just this year. Tina specializes in alignment-based hatha-style yoga and focuses on injury prevention and recovery. Her studio classes are offered in person at her Eugene studio or online over Zoom. Hi Tina!
TG: Hi Jen, How are you?
LHC: I am doing great. I'm very excited about talking with you today. You are our first podcast from a Eugene provider, so that's kind of exciting.
TG: That's very exciting. I'm very happy to be here. Thanks for having me.
LHC: Oh, thank you so much. So I'm really curious. You specifically call yourself an alignment-based yoga therapist, and I'm wondering what exactly that means for people who have never heard of that before.
TG: Yes, so it derives from the hatha style of yoga school or practice. Alignment-based yoga specifically was started by a wonderful woman named Julie Goodmiss. She practices in Portland and is also a physical therapist. She was the one that certified and taught my instructor, Rachel Lundberg. She was the one that certified me, and so I'm alignment-based with the Julie Goodmaster lineage, which I'm so happy and proud to be a part of. Alignment-based specifically means using yoga to align your mind, body, and spirit. So use the breathing practices, meditation, and your intentions to help bring everything together in alignment. Then, more specifically with doing asana practices, or the physical aspect of yoga, focus on keeping your knees over your ankles, keeping your shoulders in the proper position, and making sure that you're doing each pose properly, so you're not injuring yourself. So I'd say that the alignment-based yoga aspect touches on both the physical and making sure you're doing the poses correctly and staying in line. but also with tuning into your mind, body, and spirit and bringing those more together.
LHC: Thank you so much for defining that and you know, I have to say, I've taken a couple of your classes and when it comes to alignment and cues, you do such a good job of slowing everything down and making sure the words you use are connecting with the people on the mat so that their alignment is where it needs to be. I know it feels like that for me, but it feels like I'm doing it right when I listen to your cues, so that's super, super awesome.
TG: Yes, I'm glad you think so, and I was extremely grateful to have the opportunity to get certified. Because I am a musician and have a lot of stressors I feel like the physical aspect was great for correcting my posture and knowing that if I hold myself in a certain way, I'm not going to injure myself. But also, it helped me align more spiritually and also helped get rid of some of the stressors in my life and just bring everything together. So I think that I'm very fortunate to have come across the certification opportunity within that yoga school, and I'm excited to explore more, but I'm so happy that I started out with alignment-based. It's been very beneficial, but I'm glad. And that's because you know you're safe and doing the pose correctly, and that's my goal with my classes: to make everyone feel comfortable and confident that they won't hurt themselves if they listen to their bodies.
LHC: Do you know, you just mentioned something about being a musician, and I'm really curious about a musician's background. What was it that drew you to the practice of yoga?
TG: Yes, I just finished up my degree at the University of Oregon. I'm a violinist, and during my second year of school, I played about eight hours a day of violin. Holding an instrument for that long and being under that amount of stress caused me to endure a stress-related injury in my left arm, and I went to lots of physical therapy and doctor's appointments. Those helped, and I think they kind of pushed me in the right direction. which was to take care of yourself, take breaks and do things that help strengthen the stronger muscle groups so that I can give my fine motor skills and my fingers a break. I started doing some digging and had done yoga casually as a teenager just online, but it wasn't until my injury that I really started looking into a physical practice that could help me grow stronger, and so I found yoga with Adrien on youtube for free, which was so great for me as a broke college student to be able to find time in my busy schedule to do some yoga. Eventually, I just fell in love. I loved the way that it centered me, and I loved the breath work, the meditation, and also the movement. I felt myself growing stronger and I felt my arm healing, which was amazing and such a breath of fresh air after months and months of work with other medical practitioners that I felt helped me, but they weren't really targeting the root of my injury, which was stress and being a performing musician. It felt like yoga really brought in all of the aspects that I was looking for to help me heal.
LHC: Hopefully, you were able to get back to playing without pain.
TG: Yes, yes, I'd say that I have learned how to stretch, breathe, and take breaks in between. But yes, I'm back on the violin, playing as much as I can. It's been really fun.
LHC: So I'm really curious if you could tell our listeners about the certification process to become. Do you consider yourself a yoga teacher or a yoga therapist? What do you call yourself?
TG: I'd say a yoga instructor. You know, I wish I could call myself a therapist, but I'm not quite there yet. So with my 200-hour certification, that's kind of the baseline certification for becoming a certified yoga instructor and being registered with the Yoga Alliance. I'd say I loved my certification process that I had. I've known the teacher that certified me for years and years. She's been a really close family friend. I'd say that it was different for me because I got certified over Zoom. It was peak COVID time. I think that pushing myself to do yoga online has helped me learn how to teach online and in this new world of ours. Hopefully, you know that will probably be a skill that I'll use for the rest of my yoga teaching career. So Zoom wasn't ideal, but it was still a great opportunity and I learned a lot and was still able to connect with my fellow yoga teacher students. I'd say that especially with Rachel Lundberg, who was the one that certified me in the Lundberg Yoga School. She did a great job of letting us personalize our yoga teaching. Choose a topic that has inspired you and dive right in.So, as a musician with an injury, Rachel encouraged me to learn more about how I could help my fellow musicians. Students prevent injury and also recover if they have sustained an injury like me. I loved that. I appreciate her encouragement in helping us personalize our certification experience for anyone who enjoys yoga and has been attending classes for a few years and wants to go deeper. I'd say starting out and finding a good 200-hour program that speaks to you is life-changing and I would highly encourage it.
LHC: It sounds like this has been such a great opportunity for you. What is it that makes you unique to the yoga community? Is there something that you think stands out?
TG: Yes. So, on top of being a musician, I also play tennis. I've run. I was an avid runner. I've been in track and field. I've danced, and so I'd say that I've kind of dipped my toes into a lot of different athletic fields as well. I know what it means to put a lot of stress on your body and to be on your feet all day and maybe sit at a desk. I've also had a lot of time to come up with ideas of how to help people that may be in different fields, and so I think with me even though I'm, you know, pretty young. I'm only 23. I've lived a full life and tried a bunch of different things, and I try to bring that all into my yoga classes. Try to make it applicable to each person. I also help people with injury prevention and recovery. I'd say that I do a good job of giving people modifications and using props to help them protect their joints and their muscles so that they never feel like they're over-using anything. Also, with me being certified online, and as I briefly mentioned before, I'd say that I have tried my hardest to adapt my yoga studio to be enjoyable over zoom. I know that a lot of people who have shown interest in my classes have said, "Well, I'm not so sure about taking the class online or with a mask."
LHC: Can you walk someone through step-by-step how they might arrange a virtual class? So step by step, where would they go online? What would they click on? So how would they get connected to you?
TG: I have a Facebook page. It's called "Tina's Yoga Studio," and there I have a list of my classes that I offer. It's kind of in flux right now, but I have my all-levels Saturday class at 10 a.m. You can click on my Facebook page and then click on events, and you'll see the dates and times listed for the classes that I offer. On the class page, there's a description, and there it gives a little taste. I added a memo about what each class is focusing on and also my rates there. I accept cash, Venmo, or some other sort of payment. Just shoot me an email. My email is listed there, and once you have an idea of how you'd like to get your payment to me, I will send you a link at the end of the week. So I usually send out the Zoom links about a day before the class, so you can expect to see them in your inbox. If you have any other questions, you can just shoot me an email, but all of that information is on Facebook at "Tina's Yoga Studio".
LHC: Awesome. I'm just boiling it right down. So if someone had a computer, they would click on that link, and they would need to have a camera. Is that correct?
TG: Yes, I am also totally okay with students keeping their screens off. I have a few students that prefer to keep their cameras off, but yes, having access to a computer that has a Zoom account. You'll need to click on the Zoom link, and then it'll pull up the Zoom meeting, and you're welcome to keep the camera off. Again, I want everyone to feel comfortable and welcome. So if you feel more comfortable keeping your camera off, no problem, but some people like to have their faces shown and wave and say hi and chat with the community for a bit beforehand. I think it's kind of a given that most of us know how to navigate this, but I think there might be some people out there who, like I said, have never done this before. Maybe you've never taken a yoga class. Maybe they've never even zoomed a class before, and so I think it's very helpful to really just go step by step.
LHC: So thank you for doing that. You mentioned something about all levels of yoga on Saturday. Do you have other classes as well?
TG: I will try to cater this to people that have any level of experience. So maybe they're walking in, and it's maybe their first ever yoga class, and maybe they've been practicing for years and years. We also don't use any props, which, to be honest, has been a challenge for me because, while keeping people safe and helping them find how to do the poses properly and staying within that aligned yoga medium without props has been a challenge because I was certified using straps and chairs and blocks and blankets. So I say that the true Julie Goodmiss founded the alignment based on the assumption that there would be a large number of participants with yoga props around me. But in our more virtual base and coveted safe world, we're not able to use props in person. So to keep it kind of on the same level for both the Zoom people that are at home and may have some access to props and those in the studio, I've decided no props. That's all right. It's been fun, and then I also offer a Sunday family yoga class at 10 a.m. every Sunday. That's virtual only, because everyone's in the comfort of their own homes and hopefully has access to a chair, maybe a few blankets, and some books if they don't have yoga. blocks, or a belt, or a scarf. If they don't have a yoga strap for that class. So I will work people in and out of more advanced standing poses and use props to help them see how props can be useful for helping their muscles relax into these deep stretches. I'd say that the Sunday yoga family yoga class is, at times, a little more advanced. Sometimes we kind of take a couple steps back and do more of a restorative yoga practice, but Sunday family yoga has been super fun for me to prepare because then I get to really push people and explore the deeper, more advanced poses with the help of all of the props. That's been a lot of fun, and another class I'm thinking about adding to the schedule is a more gentle and restorative yoga class on Monday nights at 7:30 p.m. Again, all of the information and class descriptions are on Facebook at Tina's Yoga Studio. So, gentle and restorative yoga. We will focus more on meditation, deep breathing, and some stretching and strength practice, but mainly by setting and using props in the comfort of your own home to relax deeply and to prepare for the week ahead. I chose to offer an evening class, just in case you work on the weekends or can't make the morning classes work for your schedule. You can hopefully join. On Monday nights, join us for some gentle, slow, and restorative yoga practice.
LHC: It's so great that you're offering those options. One last question: if somebody wants to find you and take a class in person, where might they find your studios?
TG: Perfect Yes, so I rent out an hour every Saturday at a studio called Platform 360. A few other classes are offered there as well. It's a great space. It has large windows, plenty of light, and it is located on the second floor. I'm on the second floor of a building, and so it's not as accessible for those that can't climb up two flights of stairs, which is sad for me, and I may end up choosing to rent out a different space. For now, that's what's working, but it's on 18th and Willamette in the downtown Eugene area. Tina's yoga studio may be moving elsewhere, but it's been a really fun space and it's been very convenient for me.
LHC: That's so great, and I'm sure that if you are going to move or change spots, that will be updated on your website, correct?
TG: Oh, yes.So the in-person platform address 360 is listed on my Facebook page with the "all levels" yoga class because that's the one that I offer in person. The other two are just online for now. and for those who are apprehensive about taking online classes. I know for myself, I started with yoga online. I hadn't attended an in-person class in a very long time until I just recently started teaching at the gym. It's convenient. It's fun. You're in the comfort of your own home, and we do try our best to connect as a community even though we're not in the same physical space. Hopefully, that won't turn you away, and if you're interested in doing some yoga, you'll still be able to join us online.
LHC: Tina Thank you so much for talking with us today, and I hope that somebody out there, multiple people out there, has heard you and feels like they've made a health connection today.
TG: Oh, Jennifer, thank you so much for having me.
LHC: It's been a pleasure to speak with you. Good luck with your classes.
TG: Bye-bye, thank you.
[Music]
Thanks again for listening and let's make a health connection. Find us online at localhealthconnect.com as well as on Facebook, Instagram, and Twitter. Links and show notes for this
The interview is available on our podcast page. These interviews are really fun, and I hope you made a health connection today. We'll talk again later.
[Music]
Let's make a health connection. Copyright 2022, all rights reserved, is the exclusive property of MBS Therapy, LLC, a Washington-based company. Local health connect is inclusive and does not
We do not support any political or religious organizations. Thank you again for listening, and we'll see you next time on localhealthconnect.com.
[Music]
By Jennifer Barber, LICSW 3-8-2022